On February 2, Marine Pomart, Supply Chain Leader of KIABI, Olivier Dubouis, Partner and Managing Director of DIAGMA and Pierre Thuillier, Manager of DIAGMA, came to present a successful logistics network review project to support the brand's omnichannel transformation. who wants to "offer the world happiness to wear". An original and very collaborative approach which was based on 2 hackathons bringing together around forty people from the company from very diverse backgrounds to develop disruptive scenarios. This webinar took place in the studios of Supply Chain Village.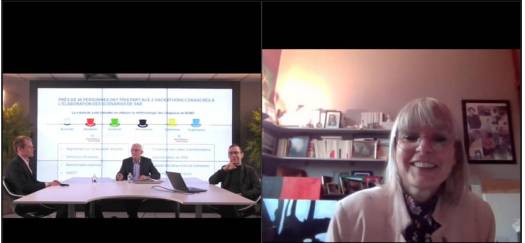 Founded in 1978 in the North of France, Kiabi is a ready-to-wear brand for the whole family with more than 500 stores in 17 countries, for a turnover of nearly € 2 billion in 2019. It has set its sights on international in 1990, and launched on the web in 2000. 20 years later, its site covers 25 countries and its more than 10,000 "Kiabers" are very proud to wear the colors of a brand that wants to "offer to the world of happiness to wear ".
A pioneering and innovative brand
Always at the forefront, since 2016 it has had a Trends Lab which has 56 stylists to become a fashion designer. And in 2019, as part of the Kiabi Human initiative, the brand decided to offer more responsible and environmentally friendly fashion. This is how it launched the 1st site dedicated to second hand, with 21 corners in stores in France and internationally. It also develops customization workshops to extend the life of products. And it promotes the circular economy by offering permanent clothing collections throughout its fleet in France. "We are working on new concepts to offer a pleasant and seamless shopping experience on the website as in store. We want to simplify the life of our customer and make our service part of her life course rather than in her shopping journey" , summarizes Marine Pomart, Supply Chain Leader at Kiabi.
Stakes of the project SND (Supply Network Design)
Kiabi had ambitious goals, especially in terms of e-commerce:
offer a reliable 48-hour delivery service throughout Europe, as standard (replenishment of stores and e-commerce);
be disruptive by ensuring an ultra short delay (D + 1). An order placed online until 8 p.m. is delivered to the store and available in Click & Collect as soon as it opens the next day.
be able to deliver the customer where he requests it (Click & Collect, Home delivery, in relay point or at the place of life).
Kiabi called on Diagma to co-build a Supply Chain capable of meeting its ambitions of service improvement, but also of cost reduction, in a context of international development. "Our challenges were to build a variable offer according to customers, to gain in reactivity and reliability, while optimizing logistics, transport and inventory costs – fundamental for Kiabi- Business Model, without forgetting to reduce emissions of CO2 ", recalls Olivier Dubouis, Partner and CEO of Diagma.
A project in 3 main stages over about 5 months
Diagma's project methodology did not relate only to Kiabi's Supply Chain (logistics, transport, upstream and downstream supplies), but integrated all the elements having an impact on the development of the distribution network such as the product pyramid, sourcing, stores, product delivery methods … from business, process, information systems and performance angles. "The project, which took place over approximately 5 months, included 3 main stages: analysis of the current logistics network, including site visits to understand their operation, then benchmark and business projection over 5 years on the basis of 'hypotheses. The 2nd step consisted of building cost models, various target scenarios, then comparing them according to 3 main criteria: service, costs and environmental impact. Finally, we proposed a summary, with our recommendations and a sheet of route ", explains Pierre Thuillier, Manager of Diagma.
An approach of co-construction of original scenarios
The originality of this project lies mainly in its very collaborative approach, specific to Kiabi's DNA, and in the organization of 2 days of Hackatons. The latter involved around forty people from the Supply Chain, but also from various horizons: business, stylists, collections … The aim of this approach was to stimulate creativity and to think without constraint on disruptive scenarios. Bono's Hats methodology allowed the proposals to be examined from various angles (neutrality, emotion, creativity, pessimism, optimism and organization). The 1st day, via work in sub-groups which shared the fruit of their reflections, made it possible to identify all the ideas. The second day was devoted to developing more plausible scenarios.
3 criteria for comparing scenarios: economic, service and environment
The scenarios resulting from the hackathons, supplemented by alternative scenarios proposed by Diagma and extreme scenarios, were then explored in depth. Diagma has adopted a full cost modeling approach, from supplier to customer: upstream, downstream transport, logistics, stock model … The scenarios at 2 sites or 3 logistics sites were compared on economic criteria, level of service and CO2 emissions. "Our recommendation focused on the 3-site scenarios, which were not the best from a cost point of view, but on service aspects and CO2 emissions", indicates Pierre Thuillier.
A successful project
"The main key success factors were the involvement of the General Management, as sponsor of this business project, and in the orientations, validations and arbitrations. The alchemy which produced good results also comes from the co-construction of the strategy in a very participatory mode. Finally, the design was global (taking into account all the impacting dimensions) and integrated (complete Diagma modeling to decide on objective factors ", Olivier Dubouis analysis. And Marine Pomart to underline the contributions of the SND project for Kiabi: "We have a global and coherent solution, which improves our service in a Customer Centric approach and which is scalable." Diagma has in fact provided Kiabi's Supply Chain teams with a tailor-made tool for their allowing to simulate variant scenarios. The deployment of the scheme is underway with already great successes in Europe …
TO KNOW MORE :