December 17, on the Supply Chain Village set. Alexandre Bousquet, Logistics & Cutting Manager of Saint Gobain Glass Industry, Bruno Hérard, Senior Manager DIAGMA and Dr Youness Lemrabet, CEO of Everysens, testified about the successful real-time monitoring project, via IOT (Internet of Objects) sensors, 'a park of 1,800 easels spread over Europe. This project is part of the broader framework of a reflection carried out with DIAGMA on the most relevant innovations to be implemented in order to design the warehouse of the future of Saint Gobain Glass.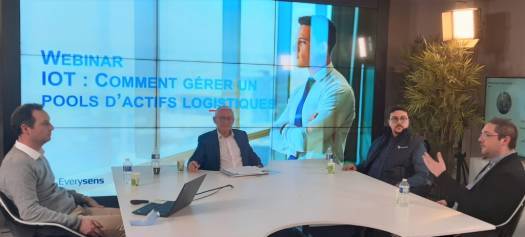 How to optimize a fleet of logistics assets with IOT sensors? The testimony of Saint Gobain Glass Industry provides answers.
A world leader in the glass market
Saint Gobain Glass Industry (SGGI) is the world leader in the glass market, mainly for the automotive and building sectors. It employs nearly 15,000 people, spread over around 100 sites in 25 countries. In Europe, it has about fifteen factories for 7,000 employees. This group manufactures windows, facade, decoration & design glass, industrial specialties and performance and protection products which have in common their fragility. They are moved vertically in the form of stacks of glass sheets via metal equipment called "easels". These are of two shapes: A when they have two support sides and L when they only have one. These fairly heavy (1.4 tonnes) and bulky (6 m long and 3.30 m high) equipment are themselves transported in Inloaders, specific semi-trailers without axles in which the trestles can slide. These trucks, with their equipment, circulate between factories and SGGI customer sites in Europe.
DIAGMA to identify the relevant initiatives of the logistics of the future of SGGI
SGGI called on DIAGMA as part of a project to define its logistics of the future within 10 years and more. Given the transformation of its activities and the proliferation of new technologies likely to improve its warehouses in terms of organization and productivity, SGGI wanted to be supported in choosing the right innovations. "We started from the challenges and the needs, identified the innovations and mapped the maturities in order to identify where we can bring value, see the POCs to lead and where to lead them", explains Bruno Hérard, Senior Manager DIAGMA. This work made it possible to identify 15 relevant initiatives, which were qualified according to their contributions to the needs of the business, then to deploy pilots according to the maturity of the sites in order to qualify the use cases and the potential for ROI. It is in this context that the need was identified to optimize the fleet of logistics assets (trestles) through better monitoring.
Track easels in real time to reduce annual investments
SGGI has more than 5,000 pieces of equipment, or 20 M € of assets in circulation, but with only 80% inventory accuracy over the past 10 years, linked to the dispersion of these easels throughout Europe. It is therefore necessary to invest around € 400,000 each year to buy new equipment, not to mention the impacts of imprecise piloting suffered by the factories. "The challenges were to have a reliable and real-time inventory of our fleet of trestles, to reduce annual investments by reducing the expected retention of the fleet and to set up a real management of the flow of apparatus within the Supply Chain, via efficient tracking ", explains Alexandre Bousquet, Logistics & Cutting Manager of SGGI.
The choice of the IOT and the Everysens solution
The solution adopted was to monitor the fleet of logistics assets (trestles) by means of autonomous sensors (on battery) with a long lifespan (more than 5 years) attached to the apparatus, to transmit the GPS data via the Sigfox low-frequency telecommunications network and to be able to use this data from the SaaS Everysens platform. "During the process carried out with DIAGMA, we had heard of IOT projects whose technology seemed mature. In addition, we have an entity in charge of identifying innovative companies at Saint Gobain. It had identified Everysens for its expertise. business and its ability to monitor railway elements. It is above all the fact of having a business platform to use the data that guided our choice, "emphasizes Alexandre Bousquet.
1,800 easels equipped with sensors in two years
The implementation took place in 4 phases. Upstream, a POC (Proof of Concept) tested 4 technologies (including Sigfox and Lora) by installing sensors on 30 easels with 1 to 24 feedbacks per day. Then a pilot was carried out in the first half of 2018 on 100 easels to identify the best platform (partner or own developed) and select the best technologies in terms of precision, capacities and costs. Once Everysens was selected, deployment on 1,800 easels across Europe followed in the second half of 2018. A final phase consisted of implementing measures to refine the ROI and the real benefits to be expected from the project.
40% decrease in retention rate
This project has provided SGGI with proactive visibility on its fleet of equipped trestles in Europe. It has improved data reliability and reduced the asset immobilization rate by 40%, resulting in a very rapid ROI. Other use cases could be identified in the long term.
5 tips for successfully analyzing an innovation portfolio
Innovative technologies are legion. To make the right choice, 5 recommendations from Bruno Hérard of DIAGMA:
Start with business issues and what we need to improve, but not technological solutions
Involve decision-makers and quantify the improvements
Identify a margin of choice of potential technologies but have to stop quickly. Discover 10 solutions, deepen them 1.
Rely on progressive POCs and create Champions to bring innovations (not just Key Users)
Quickly express a need and its challenges to quickly qualify the relevance of use cases