CLARINS is number one in "high-end" skincare in Europe and a global player in beauty. Its Glisy logistics hub is the spearhead of its e-commerce and omnichannel strategy. With a surface area of 27,000 m2 on two levels and a staff of 120 employees, it manages the replenishment of intermediate warehouses around the world as well as the preparation of orders for the majority of European customers, including Internet users. In order to absorb its seasonal activity peaks, from the end-of-year celebrations to the launch of new products, all distribution channels combined, the CLARINS logistics hub relies on the expertise and project experience of DIAGMA to automate its retail order preparations with the Goods To Man SCALLOG solution. This 4,300 m2 automated storage warehouse, installed on the mezzanine on the first floor, includes 750 shelves transported by 71 robots to 12 picking stations. It accommodates all CLARINS references and has been operational since June 2023.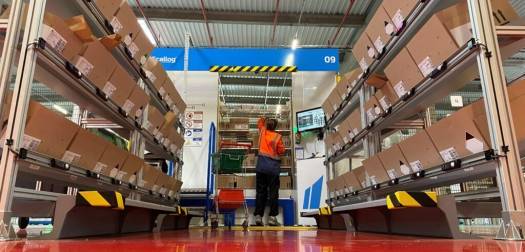 A tripartite automation project, CLARINS, DIAGMA and SCALLOG
Selected in the fall of 2021, the DIAGMA firm, recognized for its expertise in the optimization of complex logistics flows, supported the CLARINS logistics hub. Following an in-depth study of the processes, volumes and spatial constraints of the warehouse, DIAGMA drew up the specifications, then analyzed the possible technological solutions on a functional level. The goal was for the logistics hub to be able to choose, in a reasoned and informed manner, a solution for automating its retail order preparations that meets its constraints.This solution had to integrate the existing infrastructure –a warehouse on two floors with mechanization and space constraints, be able to achieve the objectives and ensure continuity of service during its deployment. Cécile Mansuy, Director of Operations at Clarins, tells us: "In a context of strong transformation of our environment, we had to transform our Retail preparation method in 18 months. The DIAGMA firm was able to immediately demonstrate a strong knowledge of the market and its best practices, as well as a concrete and practical approach. Their support allowed us to go to the essentials in each of the key stages of the preliminary project, right up to the selection of the equipment supplier»
In June 2022, the "Goods to Man" solution SCALLOG made the difference, in the eyes of CLARINS, in speeding up its order preparation rates, with complete efficiency and agility, while improving the working conditions of its operators.
DIAGMA assisted the CLARINS logistics hub from the design of the automated store to the deployment of the solution, including its acceptance and training of operators. The project was structured around several highlights: design in October 2022, deployment in December 2022, two test phases in February and April 2023, with no impact on the ongoing logistics activity. In order to best support employees in the change, or even the (r)evolution represented by robotization, DIAGMA and SCALLOG, in close collaboration with CLARINS, are currently training three teams of 14 operators, so that they increase their skills and autonomy. Cécile Mansuy adds: "SCALLOG quickly positioned itself as a partner of CLARINS. We defined the business processes in collaboration with their pre-sales team and their responsiveness to our requests continued throughout the project. Thus, SCALLOG was able to propose an installation plan in 2 phases guaranteeing the continuity of our activity during the works and the future scalability of the solution. »
Many benefits, from agility to Quality of Life at Work
Cécile Mansuy, Director of Operations at Clarins, details the first benefits of robotization: "The installation of the SCALLOG solution allows us to adapt the Site Details area to the evolution of its business portfolio: increase the capacity schedule to absorb the growth of our markets, double our stock coverage directly available in detail as well as control and reduce the crossing times of our e-commerce order preparation. »She adds: "In addition, Clarins has set a high priority on the quality of life at work. The intuitive human-machine interface, which guides our pickers at each stage, gives them greater autonomy, while guaranteeing better quality of preparation. Feedback from the field also proves the considerable ergonomic improvement by reducing ambient noise, the number of steps taken and also the range of motion. »
Bruno Hérard, Director of DIAGMA confides to us: "This new project with CLARINS illustrates a strong trend in logistics: the transformation of existing warehouses to absorb new flows, under the effect of the development of e-commerce and shortage of land. The configuration of warehouses is changing, boosted by e-commerce, by combining several levels and a multiplication of ergonomic retail order picking stations. A Goods to Man solution, like SCALLOG, which offers resolutely agile and flexible robotics, fits in very well to meet the requirements for accelerating order picking and increasing productivity. »
Ludovic Mailly, Business Development Manager of SCALLOG concludes: "In addition to being integrated into the warehouse, without transformation and interruption of operations, our Goods to Man solution demonstrates, within the CLARINS logistics hub, our ability to manage large flows of BtoB and BtoC retail order preparations, all product types and classes, with complete agility and efficiency. »
About SCALLOG
Founded in 2013, the French company SCALLOG develops, manufactures and markets robotic solutions dedicated to logistics in order to increase the agility and productivity of the warehouses of players in 3PL, e-commerce, distribution, industry. Faced with the changing requirements of BtoC and BtoB consumers, particularly in product availability and delivery, the SCALLOG solution guarantees them to speed up their order preparations and absorb their peak activity, while reducing the arduousness and smoothing investments. Its "Goods to Man" range, including the best of "intelligent" decision and execution software and mobile robotics, meets the needs of logisticians to go further in the flexibility of order picking and to integrate more widely automation in their warehouses. With more than sixty references to its credit, SCALLOG, spearhead of scalable and flexible logistics robotics, now aims to accelerate its development in Europe and internationally. https://www.scallog.com/
About DIAGMA
DIAGMA is a strategic, tactical and operational consulting firm specializing in Supply Chain Management. Founded by Jean-Patrice Netter in 1973, its President, it is characterized by its independence, very strong expertise in Supply Chain Management and partners very involved in advisory missions alongside its consultants, in order to best meet the needs of its clients in terms of sustainable performance and transformation. Working for multiple sectors and companies of all sizes in industry, distribution and services, he is present in Paris, as well as in Brazil, Morocco and the United States. DIAGMA is also cited among the best consulting firms, in the Purchasing & Supply Chain category by CAPITAL, following a survey carried out by the STATISTA Institute among 1,500 experienced consultants and senior managers.